Login for Old Students
Enter your username and password here in order to log in on the website: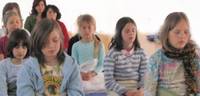 Movie: Zeit zum Atmen"
Flyer Anapana Kurse für Kinder und Jugendliche
One- day courses outside of Dhamma Dvara
Meditation courses can also take place outside of Dhamma Dvara – in schools and other institutions for children and young people, provided there are old students who organise them.
Such one-day courses offer children and teenagers the opportunity, to learn Anapana-meditation in a very short time, and it enables them to make use of it in their daily lives.
This is then especially helpful when the children are encouraged to keep on practising regularly after the course, for example within the class, leisure-time group etc.
In our experience the organisation of such a course is easier if you are in regular professional or personal contact and exchange with the parents and children. Apart from that, parents and superiors should be informed well in advance and included in the planning process.
Here you find a guidance sheet for organising and a flyer to print out and copy, both only available in German language.
We also suggest you to watch the English film Time to Breathe, which is about a school class, doing a one-day trip to the meditation centre Dhamma Dipa in England.
For further information please contact: